Let us also show you some of the other examples below. .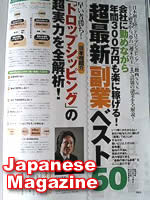 For example, Japanese Magazine normally use 80% of Kanji symbols, and 10% of Hiragana and Katakana symbols.
The picture on the left hand side is a part of a Japanese Magazine. In this case, they use Kanji symbols and Katakana symbls for the title. But, otherwise, they used all 3 Japanese symbols.
Because this page of the Japanese magazine is talking something about the Internet technoloies which are foreign names, they used the Katakana symbols for its name.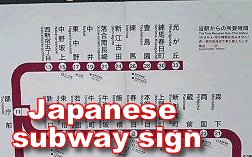 Another example is the Japanese subway sign we have found in the Japan's subway.
Almost all of the station's name is written with only Kanji symbols.
In this case, there is only one station which has Hiragana symbols between Japanese Kanji symbols, which is the one on the top right hand corner.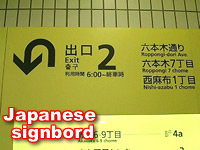 Finall example is the Japanese signbord.
The majority of Japanese signbord use both Hiragana and Kanji symbols.
In this case, it is the singbord of the place in Tokyo.
Almost all the sings are written with the Kanji symbols.
By the way, we can write numbers in kanji symbols as well, but normally use the numerical sign to represent.