Learn to speak Japanese word and phrase.
Japanese vocabulary
The 3rd lesson is listing Japanese vocabularies.
Mainly, there are nouns such as English, and Japanese words in Japanese.
I will add more Japanese words soon!
Click the "Play" button and you can learn to hear and speak Japanese.
Repeat the native Japanese spekaer's pronunciation.
Ok, let's start to learn to speak Japanese!!
"Learn to Speak Japanese" Lessons
English meaning
Japanese Langauge
Learn to Speak Japanese
English
(ei go)

Learn to speak Japanese english

Japanese
(ni hon go)

Learn to speak Japanese: japanese

It is difficult.
(mu zu ka shi i de su)

Learn to speak Japanese difficult

Happy New Year
(A ke ma shi te
o me de to u)


I hope to see more of you in this year
(ko toshi mo
yo ro shi ku
o nega i shi ma su)



me too
(ko chi ra ko so)
Go to next Japanese spekaing lesson
If you like this lesson, please click "Like", "Tweet" or "G+1" button!
I greatly appreciate your kindness!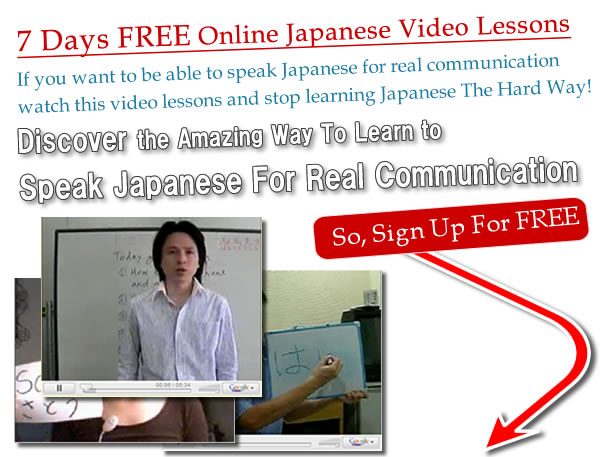 Please enter your name and emai address below to get FREE Lessons by Takanori Tomita.
*This is a private mailing list and will never be sold or given away for any reason.
You can also unsubscribe at any time if you ever want to
*Read what our subscriber says about the 7dasy FREE Japanese Video Lessons below.
Also please write your comments as well, if you like this course!