Learn to speak Japanese word and phrase.
Basic Japanese greeting words
The 1st Japanese speaking lesson: Learn to Speak Japanese for real communication teach you how to say Japanese words and phrase. So, you will open your mouth and sound like a totally real Japanese-speaking person.
The 1st lesson is to learn to speak some of the Japanese greeting words
such as Konichi wa, hajimemashite, konibanwa.
"Learn to Speak Japanese" Lessons
English meaning
Japanese Langauge
Hello
( Kon Ni chi Wa)
Nice to meet you
(Ha ji Me Ma Shi Te)
Good Evening
( Kon Ban Wa)
long time no see
(hisa shi bu ri)
Good bye
(Sa yo na ra)
Excuse me
(su mi ma se n)
Thank you
(a ri ga to u)
Yes
(hai)
No
(i i e)
I am tired.
(tuka re ta)
Are you right?
(dai jyou bu)
English
(ei go)
Japanese
(ni hon go)
It is difficult.
(mu zu ka shi i de su)
Please also watch my video lesson so that you can hear and learn to speak Japanese.
Repeat the native Japanese spekaer's pronunciation.
Ok, let's start to learn to speak Japanese!!
Go to next Japanese spekaing lesson
If you like this lesson, please click "Like", "Tweet" or "G+1" button!
I greatly appreciate your kindness!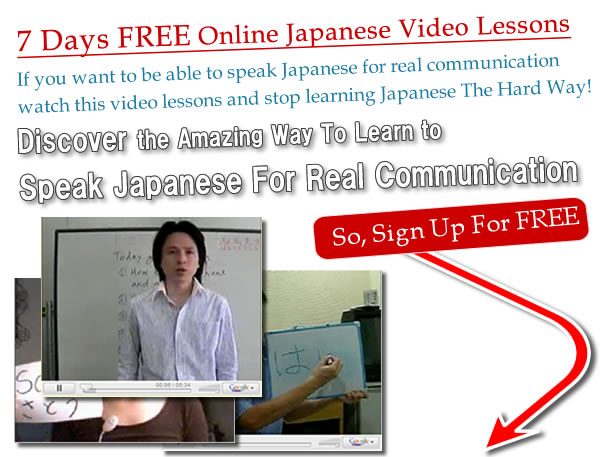 Please enter your name and emai address below to get FREE Lessons by Takanori Tomita.
*This is a private mailing list and will never be sold or given away for any reason.
You can also unsubscribe at any time if you ever want to
*Read what our subscriber says about the 7dasy FREE Japanese Video Lessons below.
Also please write your comments as well, if you like this course!