Lesson3.1: Learn to Write Japanese:
Basic Conversion - Learn to Write Greeting Conversion
Easch lesson always take place 2 Japanese people whose name is Tamaki

and Tomita

.
You will learn both casual Japanese saying and more polite way of saying.
Each Lesson of "Learn to Write Japanese" shows the conversational Japanese Hiragana Writing, and the picture to describe the conversation. There are also some exercises and questions for you to learn to write Japanese hiragana.
If you have a printer, we would suggest you to print this page out, so that you can practice to write Japanese with your pencil!
Anyway, Let's learn to write Japanese for real communications!
Tamaki: O ha You Go Za I Ma Su

Tomita: Ou Oha, Oha You!
In this conversion, Tamaki says "O ha you go za i ma su".
This is the polite way of saying "Good Morning" in Japanese.

On the other hand, Tomita says "Ou, O ha ya o u". "Ohyayou" is less polite than "O ha you go za i ma su" since the former is an abbreviation, and such abbreviated form is usually casual as it needs less effort.

So, what is "Ou "? "Ou" is like "Oh" in English, so it is like an expression of suprise

This type of conversion is usually done between a worker and a boss in a work place.
Exercise: Let's learn to Write Japanese Hiragana
"Oha You Go Za i Ma Su" - Good Morning
Print out this page, and learn to write Japanese by following the chart below.
We have used the 46 Hiragana chart to write each character except the character, "Go" and "Za".
We will explain about this after this.
Today's Note: Japanese Hiragana that change their Sound with the addition of small stroke ('')
As we said before, there are 2 character whose sound is "Go" and "Za", and they are not in 46 Hiragana chart. In Japanese, there are some of the Hiragana characters change their sound with the addition of two small stroke ("") which is called "Ten Ten" at the top of right of the character.
K sounds become G sounds (G as in Get)
So, the first character "Ka" become "Ga", and the last character Ko become Go in Japanese, and if you write Ko with ten ten in Japanese hiragana, it is going to be:
| | |
| --- | --- |
| | |
| Ko | Go |
Today's Question:
What would the formal Hiragana charcter of Za?
Write its character into the following box
So far, you have learned the basic of Hiragana, and how hiragana change their sound with 2 small stroke. Based on what you have learned today, answer the following question.
What sould be the formal hiragana character of Za?
| | |
| --- | --- |
| | |
| | Za |
If you like this lesson, please click "Like", "Tweet" or "G+1" button!
I greatly appreciate your kindness!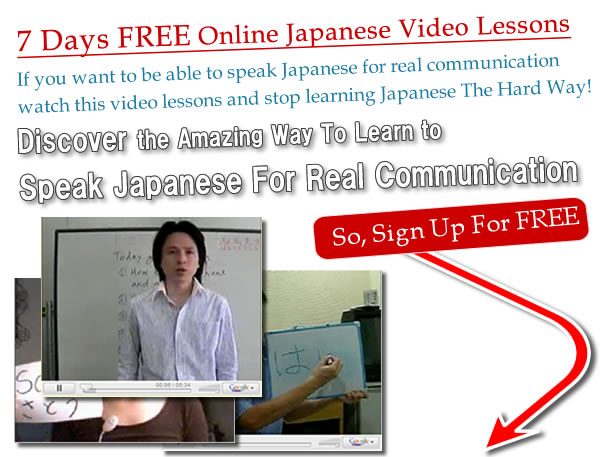 Please enter your name and emai address below to get FREE Lessons by Takanori Tomita.
*This is a private mailing list and will never be sold or given away for any reason.
You can also unsubscribe at any time if you ever want to
*Read what our subscriber says about the 7dasy FREE Japanese Video Lessons below.
Also please write your comments as well, if you like this course!