Learn to speak Japanese language for real communication
What is the greatest challenge for you to learn Japanese language?
It is the speaking of Japanese which offers the greatest challenge to the beginner, and also writing as well
You know, there are many Japanese textbooks ans website which teach you about the Japanese language like us, however, if you would like to learn Japanese language for real communication, you need to know how we really speak in Japanese.
Do you know that saying "Hello" on the phone is totally different to
saying "Hello" in a normal daylife use?
With our lessons, you will acquire certain aspects of the grammar of the language, and become able to communicate in Japanese.
You will discover that you can take what you have learned and use it in real life situation
Learn to Speak Japanese for real communication teach you how to say Japanese words and phrase. So, you will open your mouth and sound like a totally real Japanese-speaking person.
If you like this lesson, please click "Like", "Tweet" or "G+1" button!
I greatly appreciate your kindness!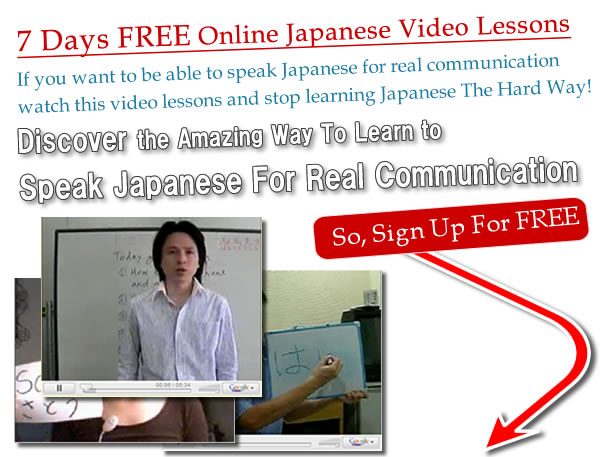 Please enter your name and emai address below to get FREE Lessons by Takanori Tomita.
*This is a private mailing list and will never be sold or given away for any reason.
You can also unsubscribe at any time if you ever want to
*Read what our subscriber says about the 7dasy FREE Japanese Video Lessons below.
Also please write your comments as well, if you like this course!