Learn Japanese language - Using masu and mashita to write and speak a present and past sentence in Japanese.
Today's Lesson: Masu and Mashita
Today's Japanese language lesson is to teach you about perfective and imperfective tense, which are used to write a present and past sentence in Japanese. Basically, the perfective tense is the past tence, and the imperfective tense is the present or future tence.
By the way, unlike English which have three tense including past, present, and future, Japanese has only two tense.
Let's take a look at the example below for the imperfective tence for verbals change to perfective tense. As an example, we use "Eat" and "Ate".
| | |
| --- | --- |
| Present | Past |
| | |
| Tabemasu | |
| I eat | I ate |
As you can see, how it is chaned by using "Masu" and "Mashita". The verb + Masu word makes the present tense, and the verb + Mashita makes the past tense.
Watch the video lesson to learn Masu and Mashita
Watch the following video lesson to learn Japanese "masu" and "mashita". Takanori Tomita will explain the perfective and imperfective tense. You also can learn how to speak Japanese by using these language techniques.
Exercise: Let's learn to write in Japanese language
Print out this page, and learn to write the following Japanese language.
In this writing, both kanji and hiragana script was used.
Tabemasu is "I eat", and Tabemashita means "I ate" in Japanese. The first character is kanji symbol and other 3 are written in hiragana symbols.
| | | | | |
| --- | --- | --- | --- | --- |
| | | | | |
| ta | be | ma | shi | ta |
| | | | | |
| ta | be | ma | shi | ta |
If you like this lesson, please click "Like", "Tweet" or "G+1" button!
I greatly appreciate your kindness!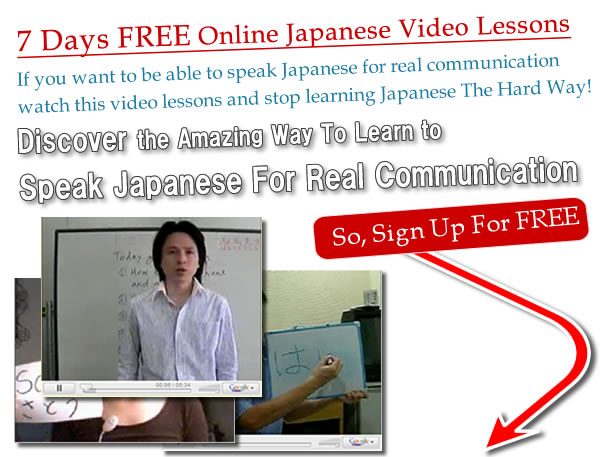 Please enter your name and emai address below to get FREE Lessons by Takanori Tomita.
*This is a private mailing list and will never be sold or given away for any reason.
You can also unsubscribe at any time if you ever want to
*Read what our subscriber says about the 7dasy FREE Japanese Video Lessons below.
Also please write your comments as well, if you like this course!