Learn to write Japanese language.
How To Write the days of the week.
Today's Japanese writing lesson is about how to write the days of week in Japanese language.
At the end of this lesson, you can write "Monday to Sunday" in Japanese kanji symbols.
There is a simple rule to apply.
You can also learn to say each week in Japanese.
Days of the Week
Time flies. Isshukan (means one week) is over before you know it.
And the Shumatsu (means weekend) is too short!
Both American and Japanese weeks have seven days.
In America, week starts on sunday, but a Japanese week starts on Monday.
Here is teh list of th days of the week in Japanese language.
| | | |
| --- | --- | --- |
| Day | Japanese | Pronunciation |
| Monday | | Getsu yo bi |
| Tuesday | | Ka yo bi |
| Wednesday | | Sui yo bi |
| Thursday | | Moku yo bi |
| Friday | | Kin yo bi |
| Saturday | | Do yo bi |
| Sunday | | Nichi yo bi |
As you can see, we use exactly the same 2 Japanese kanji symbols and only change the first character, as well as the pronunciation of "Yo bi" part is the same.
So, we write week days as a whole like the following.

In Japanese, we say "Ge Ka Sui moku kin Do Nichi"
Please also watch the following video lesson to learn how to say monday to sunday in Japanese.
If you like this lesson, please click "Like", "Tweet" or "G+1" button!
I greatly appreciate your kindness!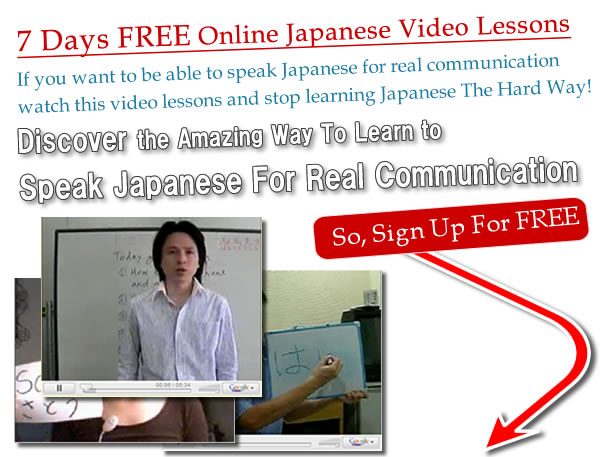 Please enter your name and emai address below to get FREE Lessons by Takanori Tomita.
*This is a private mailing list and will never be sold or given away for any reason.
You can also unsubscribe at any time if you ever want to
*Read what our subscriber says about the 7dasy FREE Japanese Video Lessons below.
Also please write your comments as well, if you like this course!